Behind the Scenes: Get to know our CEO, Janeice Weinand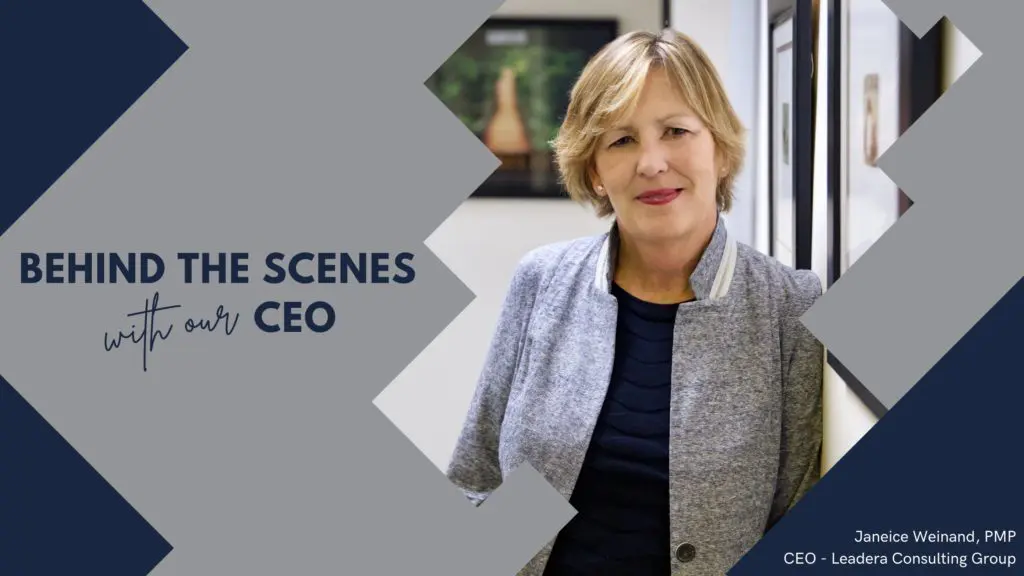 In honor of International Women's Day, we went behind the scenes with Leadera's CEO and all-around 'get things done' leader, Janeice Weinand.
Currently in its 11th year of business, Leadera provides performance-based consulting and leadership development services to businesses and organizations where collaboration and communication are essential to increasing value and gaining a competitive advantage.
As co-owner and CEO, Janeice specializes in performance-based leadership development and change management, coaching both rising and seasoned leaders, as well as entire teams and organizations, to achieve unprecedented business results.
Keep reading below for our Q&A with Janeice on all things leadership and Leadera.
Q: Tell us about your role at Leadera. What does a 'day-in-the-life' look like?
A: In our business, every day is different. From day-to-day or even from morning to afternoon, I may be working one-on-one with clients, designing new programs, updating courses, or running the back end of the business.
Q: What is your favorite Leadera course, and why?
A: The 'Being a Leader' course. While it may sound "trite," it is a truly life-altering course – in the best way. 
We are currently gearing up for our first-ever virtual 'Being a Leader' course. I'm really excited to open registration on this course. We have seen how vital leadership is over the course of events this past year, as companies have had to pivot organizations and teams during unprecedented events.
'Being a Leader' builds leaders for these types of pivots on a foundational level, creating a way of being that allows participants to exercise leadership freely and effectively as their natural self-expression, rather than providing a list of tools and rules to follow.
Q: What is a leadership book you would recommend, and why?
A: Our Iceberg is Melting by John Kotter. It is a charming book that illustrates key truths about how to deal with change.
Q: Why is leadership development important for both individuals and companies?
A: There are many studies that show companies who invest in developing current and future leaders are significantly more productive, have higher retention rates, and overall a more satisfied workforce. I believe that leadership begins with leading yourself and that is a powerful place to be.
Q: What sets Leadera apart in its industry?
A: We work hand-in-hand with our clients to customize engagements to fit an organization's needs. We believe that all individuals, teams, and organizations have the ability to go beyond what's expected. Our work is truly a comprehensive revolution that inspires people to think differently, problem-solve effectively, and achieve the extraordinary.
Q: What inspires you to do this work each day?
A: I get to make a profound difference in people's lives. I've seen first-hand the extraordinary results of those who have committed to development and gone through our courses. Seeing that motivates me each day to continue this work.
Q: What women leaders inspire you, and why?
A: Wow, there are a lot. If I look locally, Susan Dray, the new 2021 Chair of the Board for the Greater Houston Women's Chamber of Commerce, is one. She and the Chamber have many initiatives they are taking on this year, including the support of small businesses which can make a profound difference in the community.
Q: What is your favorite way to spend downtime?
With my two Australian Shepherd dogs, who are 2 and 3. They are a handful and a joy to play with!
To reach Janeice, or learn more information about Leadera's 'Being a Leader' course, you may contact Janeice directly at: jweinand@leaderacg.com (cc: acook@leaderacg.com).