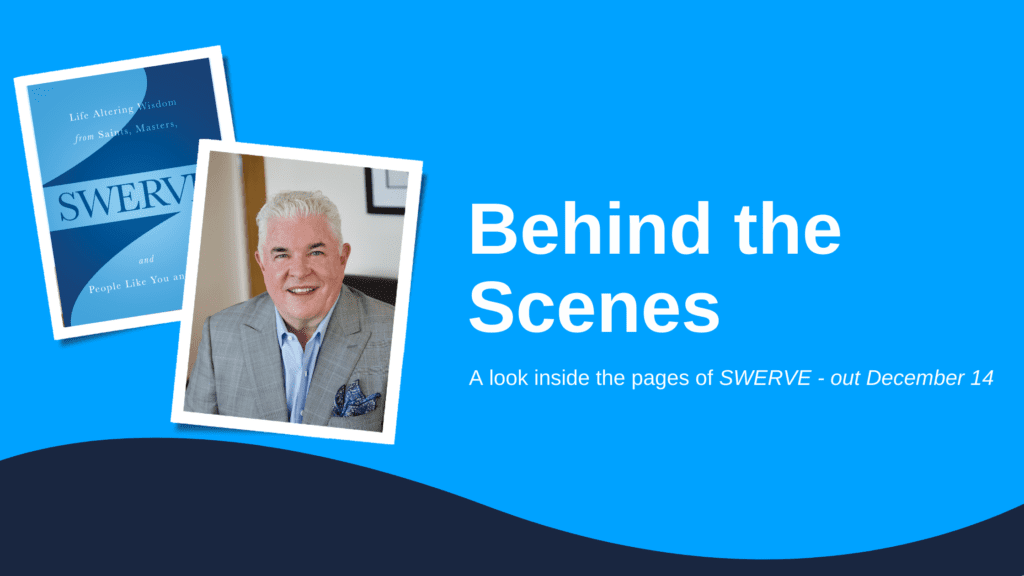 This month, SWERVE: Life Altering Wisdom from Saints, Masters, and People Like You and Me, written by Leadera president and master storyteller – Kevin Cullen, will hit bookshelves. To celebrate the upcoming release, we went behind the scenes with Kevin for a peek inside the book.
Pre-order your copy of SWERVE here.
Q. Tell us about SWERVE. What is the book about and who is it meant for?
A: It is about changing the course of the things in your life where you see a possibility or an opportunity, going after it and achieving it. It is meant for anyone who is willing to take on living a magical existence.
Q. Why this book? What made you want to write SWERVE?
A: I have a blessed life, truly in many ways it is unbelievable, lots of people ask me how I made it that way….I thought I would share some of the things that contributed to my growth and development as a human being and as a man.
Q. In the book, you share many life lessons you have learned over the years. Do you have a favorite lesson, and if yes, what makes it so?
A: Yes, the one I learned from Papaji (Guru in India). He said you should taste something sweet every day….it took me a while to figure out he wasn't suggesting I eat more desserts.
Q. What sets SWERVE apart from other business books? Why should someone read it?
A: It will provoke you to think differently, which will have you speak differently, and in turn have you act differently.
Q. How does SWERVE fit into Leadera's work with businesses and leaders?
A: The point of Swerve is to encourage or provoke the reader to consider things from a different perspective by shifting the way you might speak, think, or act.
Q. Tell us about your role at Leadera. What does a 'day-in-the-life' look like?
A: A boss gave me this advice about consulting once – he said look down at your feet….if they are in your office they are in the wrong building – no one here is going to buy consulting from you….go get in front of a client or a potential client. My average day looks like coaching clients, leading courses or talking to perspective clients.
Q. What is your favorite Leadera course?
A: Being an Exceptional Leader
Q: Why is leadership development important for both individuals and companies?
A: Leadership is about one thing – THE FUTURE. Management is about NOW, organizing, controlling, measuring, and making sure things happen the way they are supposed to according to plan. Leadership is about creating and inventing what is POSSIBLE and articulating it in such a way that people want to make it happen.
Q: What inspires you to do this work each day?
A: We work with some of the most remarkable people you could imagine. The work we do gives them a new perspective on what they do, how they do it, and who they are as they do it. When our work is done, our clients are more productive, more creative.
Q: What is your favorite way to spend downtime?
A: My passions, my interests, my hobbies, are: freshwater and deep sea fishing, sailing, art, live music, travel and my dogs.
Pre-order your copy of SWERVE here.
Read More